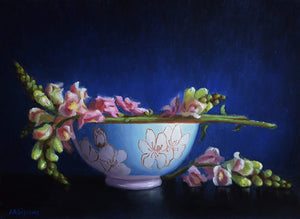 Anwesha Biswas
---
Anwesha is an oil painter based in Chicago has paintings in private collections in the USA and UK.
Her work depicts the contemporary world but carries the charm of the romantic era, with scenes creating a restful pause, reflective and meditative. The subjects for her paintings are diverse, with landscapes spanning through continents and still-life from the silent corners of a home; from children in their ever-changing moods caught unaware, to animals in moments of quiet solitude.  
The paintings are done in the wet-on-wet technique (alla-prima) and involve detailed work with a hint of the impressionism. At par with the diversity of subjects, equally willful color schemes have been applied, such as the monochromes of an orange sunset, contrasting the unique blue of a peacock's neck or the muted earthy colors covering expanses of rugged mountains and parched fields in others. All of this has been achieved through the mixing of mostly five basic colors. The artist wishes to share through her work the magic that a little bit of patience and a handful of color enables.